Welcome to Alfazin Technologies, where innovation meets excellence in software solutions. Explore our diverse range of cutting-edge products designed to transform the way you do business. With a commitment to providing industry-specific software that enhances efficiency, accuracy, and customer satisfaction, Alfazin Technologies is your trusted partner in technological advancement.
Discover a world of possibilities with our suite of software products, each tailored to meet the unique demands of various industries. From comprehensive ERP solutions to specialized software for jewelry, pharmacy, laboratories, studios, and gold schemes, we empower businesses to thrive in the digital age.
At Alfazin Technologies, we blend advanced technology with intuitive design, ensuring seamless integration into your existing operations. Our software products are crafted with precision and attention to detail, enabling you to streamline processes, elevate customer experiences, and unlock new levels of productivity.
Join the ranks of satisfied clients who have harnessed the power of Alfazin Technologies to propel their businesses forward. Whether you're a jewelry retailer, a pharmacy owner, a laboratory researcher, a studio manager, or a gold scheme administrator, our software solutions are here to simplify complexity and enhance your capabilities.
Embark on a journey of transformation with Alfazin Technologies. Explore our product offerings below and take the first step towards revolutionizing your business. Your success is our mission, and we are excited to be your partner in innovation.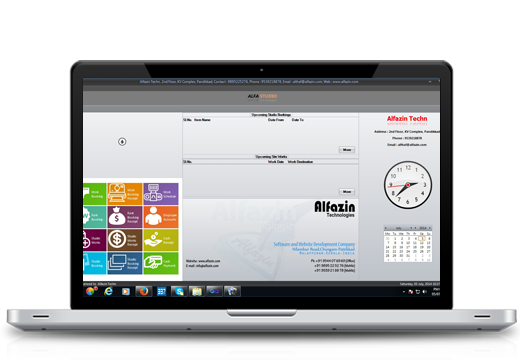 ERP Software
Alfa Suit is our flagship ERP software designed to streamline and optimize your business processes. With comprehensive modules for finance, inventory, human resources, and more, Alfa Suit empowers your organization to operate seamlessly, make informed decisions, and achieve greater efficiency

Studio Software
AlfaStudio is your creative companion for managing studio operations. From scheduling sessions and tracking equipment to handling bookings and artist management, our software simplifies studio administration, allowing you to focus on producing exceptional results.

Jewelry Software
Elevate your jewelry business with Alfa Gold, a specialized software tailored for the jewelry industry. Manage your inventory, track sales, handle intricate designs, and provide exceptional customer service, all within an intuitive interface designed to meet the unique needs of jewelry retailers.

Gold Scheme Software
Simplify and optimize your gold scheme management with Alfa Chits. This software streamlines chit fund operations, empowering you to manage gold-based savings and investment plans efficiently. Stay organized, ensure compliance, and provide enhanced customer service with Alfa Chits.

Pharmacy software
AlfaMed revolutionizes pharmacy management by simplifying prescription processing, inventory control, and patient interactions. Our software ensures accurate medication dispensing, enhances customer service, and enables seamless communication with healthcare providers.

Laboratory Software
Experience unmatched efficiency and precision in your laboratory operations with AlfaLab. From sample tracking to result reporting, our software empowers scientists and technicians to manage experiments, maintain data integrity, and contribute to breakthrough discoveries.