Gold Scheme Software
Transform your gold scheme management with Alfa Chits, your comprehensive software solution for chit fund operations. Simplify administration, ensure compliance, and provide exceptional service to participants in your gold-based savings and investment plans.
Alfa Chits empowers you to streamline chit fund operations, participant enrollment, auctions, and gold transactions while enhancing participant engagement through personalized notifications and updates.
Key Features:
Chit Fund Management: Streamline chit fund operations, participant enrollment, and auctions with ease.
Gold Tracking: Monitor gold transactions, manage inventories, and ensure transparency in dealings.
Participant Engagement: Enhance participant interactions through personalized notifications and updates.
Compliance Assurance: Stay compliant with regulations and reporting requirements effortlessly.
Financial Insights: Gain valuable insights into fund performance, participant trends, and investment outcomes.
Benefits:
Efficient Operations: Simplify chit fund management, reduce paperwork, and minimize manual processes.
Participant Satisfaction: Offer a seamless experience to participants, enhancing engagement and loyalty.
Transparency: Maintain clear records of gold transactions and financial activities for transparency and accountability.
Compliance Made Easy: Ensure adherence to regulatory standards without the complexity of manual compliance efforts.
Strategic Insights: Access data-driven insights to optimize fund performance and investment strategies.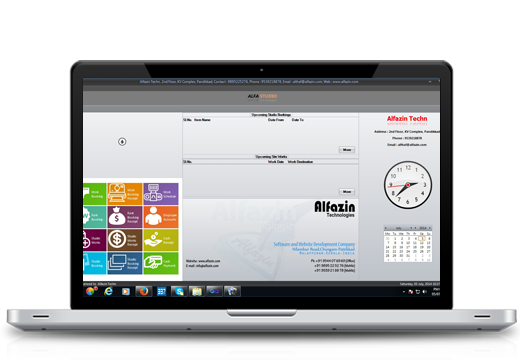 Book for a Demo

ERP Software
Alfa Suit is our flagship ERP software designed to streamline and optimize your business processes. With comprehensive modules for finance, inventory, human resources, and more, Alfa Suit empowers your organization to operate seamlessly, make informed decisions, and achieve greater efficiency

Studio Software
AlfaStudio is your creative companion for managing studio operations. From scheduling sessions and tracking equipment to handling bookings and artist management, our software simplifies studio administration, allowing you to focus on producing exceptional results.

Jewelry Software
Elevate your jewelry business with Alfa Gold, a specialized software tailored for the jewelry industry. Manage your inventory, track sales, handle intricate designs, and provide exceptional customer service, all within an intuitive interface designed to meet the unique needs of jewelry retailers.

Gold Scheme Software
Simplify and optimize your gold scheme management with Alfa Chits. This software streamlines chit fund operations, empowering you to manage gold-based savings and investment plans efficiently. Stay organized, ensure compliance, and provide enhanced customer service with Alfa Chits.

Pharmacy software
AlfaMed revolutionizes pharmacy management by simplifying prescription processing, inventory control, and patient interactions. Our software ensures accurate medication dispensing, enhances customer service, and enables seamless communication with healthcare providers.

Laboratory Software
Experience unmatched efficiency and precision in your laboratory operations with AlfaLab. From sample tracking to result reporting, our software empowers scientists and technicians to manage experiments, maintain data integrity, and contribute to breakthrough discoveries.